Every year in the Colorado Desert, twenty miles from Palm Springs, the must be destination for the music minded descends, upon an impressive landscape, for a two weekend long festival experience of live performances, parties and excitement going only by the name of Coachella.
As Coachella commenced, some of the most influential names in the music, arts and film trecked out to the vast desert for a magical weekend. The valley festival included performances, from Bank, Arcade Fire, Lorde, Lana Del Rey and a selection of other fan crazed musical acts.
If you're wondering where all the celebrities swarmed off to, well the short answer is they didn't they partied right alongside everyone else at Coachella – making for some hilarious moments. Including Aaron Paul, doing his thing, photo bombing a couple and the elusive Leonardo Dicaprio jamming to MGMT. All of which though couldn't be beaten by the most absurd moment of the festival a wheelchair crowd surfer.
This year's festival, with more people on their phones than ever, quickly caught on to social media, where '#Coachella2014' became a global trending topic on Friday afternoon. The moments of the festival where all captured on Instagram, Blogs, Youtube and Twitter.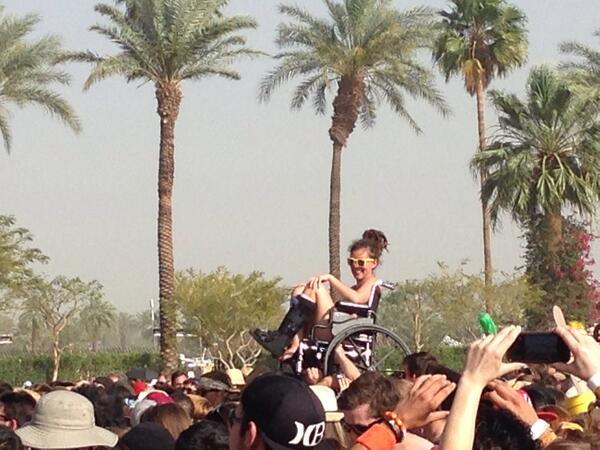 Even if you're in a wheelchair at #Coachella2014, you'll still have a good time.
The history of Coachella is a rather bumpy one the festival's first time running was for a two day long event back in October 1999. Although, no festival was held in 2000, so the festivals founding year was when it returned on an annual basis from 2001, mainy setting a stage for indie rock and while music was still in the air thirteen long years later Academy Award winners and nominees were also in attendance at the event. As Jared Leto, Aaron Paul, Leonardo DiCaprio and even the Hoff all joined the fest for the weekend. Along with a name belonging to the world of film and music known mostly for his hat and the Academy Award nominated song 'Happy' Pharrell Williams was also in the desert.
The cultural event will be returning for its re-run weekend on April 18th, although mainly a way to to sell more tickets and prevent overcrowding, the second weekend is set to be just as packed as the first with both ends of the split festival sold out. Whether the surprises and unexpected moments will be better next weekend? nobody knows, but it's unlikely, with less media, parties, celebrities and performers present. The second weekend is more likely to be the relaxed version of this past weekend, so if you're still in the desert remember to relax.
---
About the Author
---
James Rush
is the Founding, News & Chief Editor for TFM.
---
Posted in Coachella, Culture